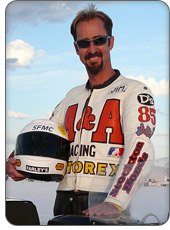 Jim Hoogerhyde has been racing for 14 years, and is now part of the Werkstatt race team for 2008. His impressive race resume includes podiums on almost every race he enters on his Supermono race bike in the AFM and AHRMA and 

two World Land Speed Records at Bonneville aboard a 1969 Aermacchi 350.

In 2008 he is racing the Supermono (a 2004 CRF450 engine built by his brother Joe Hoogerhyde in a 1992 RS250 chassis) in the AHRMA and the AFM.